Growing your own sprouts at home is rewarding in so many ways. It adds some extra foliage to your kitchen, tastes amazing, is so cheap that it's almost free and it's easy. I find the trick to successful sprouting is establishing a routine for rinsing. Work the rinse cycle into your daily schedule, first thing in the morning and later at night, it's an important part of keeping your sprouts fresh, clean and crisp. We used a combination of Mumm's seeds (available everywhere) and some organic lentils from our health food store. We generally don't grow four jars at once but I was interested to see the simultaneous grow rate.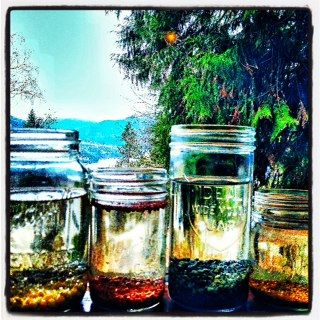 Make a selection of clean jars to use for your sprouting. The jar size will dictate how many seeds you use. The smaller jars that we used will want 1- 1/2 tablespoons of seed whereas the big quart jars can handle 2-3T. I used a few too many alfalfa seeds and it was bursting through the top by the time it was ready. Rinse and soak your seeds for a few hours to get them started then begin the rinse, drain procedure. Mumm's starter kit comes with seeds, screens and rubber bands so all you need is water and jars to get going. I find the rubber bands provided are a bit weak and allow seeds to get trapped in the screen top as well as opening up a chance for a sprout straining disaster. I like broccoli elastics...in general...
Rinse and strain your sprouts every 12 hours and store the jars on a window sill, inverted in a dish to catch the water. I don't find that sunlight is a real necessity since the sill I use is quite shady but it might speed up the process. We opted to grow alfalfa, daikon and green and French lentils. The alfalfa and French lentils were the clear winners at the time of completion. The entire process takes less than a week and the fruits of your labor (really?) are well worth the micro-effort to grow them. If you haven't been saving your old sprout containers then you can line a small Tupperware with paper towel and refrigerate until you're ready to chow down. We tend to eat them straight out of the jar before they ever even make it to the fridge.
Give it a try.